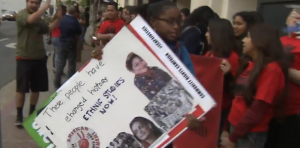 Two bills in two states would make ethnic studies a mandatory requirement to graduate from high school, reports CBS SF.
Democratic State Senator Tick Segerblom and Republican State Senator Becky Harris are proposing a bill that would require all Nevada high school students pass an ethnic studies course.
The emphasis of the course would be on "human relations and sensitivity toward all races."
Assembly Bill 1750 in California would create a task force to identify curricula for establishing and implementing ethnic studies classes in public high schools statewide.
"Due to the diverse demographics of our state, public schools should have the opportunity to improve human relations and enhance socio-cultural understanding," said Democratic California Assemblyman Luis Alejo who sponsored the bill.
You can read about local laws passed in San Francisco and Los Angeles and a court decision expected in Arizona about Ethnic Studies on CBS SF.