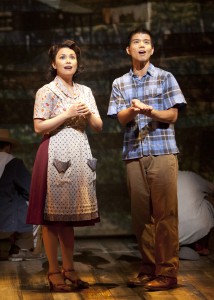 It's official. Lea Salonga and Telly Leung are reuniting with George Takei for the premiere of Allegiance on Broadway, reports U-T San Diego.
The dynamic trio starred in the world premiere of Allegiance in 2012 at the Old Globe Theater in San Diego. The play about a Japanese American family ripped apart by the loyalty oath and the incarceration of Japanese Americans during World War II set box office records.
"I'm delighted and thrilled that Lea Salonga and Telly Leung are back with us," Takei said. "Lea is my beloved sister and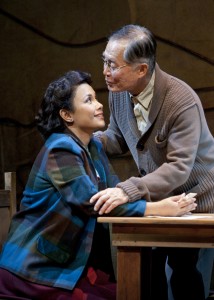 granddaughter (in the show) and Telly is my younger me. Of course we had to have them back. I would be incomplete without them."
This will mark Lea Salonga's first appearance on Broadway in eight years when she appeared in Les Miserables.  She is best known for her Tony Award winning performance as Kim in Miss Saigon.
The Broadway debut was announced last month, but up to now, it was uncertain if Salonga and Leung would return for the production. It's also been announced the show will open at the Longacre Theatre with previews starting October 6 and the official debut November 8.
I saw this play in San Diego and it is absolutely sensational. It played to an enthusiastic and diverse audience. New York theater-goers can look forward to an entertaining performance.
RELATED STORIES
George Takei's Allegiance Headed to Broadway
When Will George Takei's Allegiance Make It to Broadway