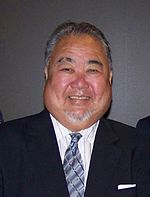 Long-time educator and politician Warren Furutani recently announced that he will be running for the California State Senate in the 35th District, which includes areas of Los Angeles County such as Gardena, Torrance, and San Pedro reported, the Los Angeles Times.  He will be running against State Assemblyman Steve Bradford.
Furutani, 67, lives in Gardena, and was previously a member of the California State Assembly.  He was also the first Asian American elected to the Los Angeles Unified District Board of Education, and he also served on the Los Angeles Community College District Board.
In addition to serving the public as an elected official, Mr. Furutani has long been a community activist and educator.  He was instrumental in the establishment of Asian American Studies at UCLA and California State University in Long Beach. He also helped start the
Manzanar Pilgrimage
, which is an annual event to commemorate the 110,000 Japanese Americans who were sent to concentration camps during World War II, and he worked on the campaign to convince the federal government to designate Manzanar as a national historical site.
(An earlier version of this story incorrectly reported  Furutani's age).