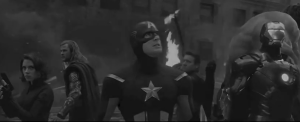 AJC.com reports that Southeast Asian and South Asian extras are needed for the filming of Captain America.
Pay rate is $64 for a one day shoot with the possibility of overtime.
You're supposed to submit a picture of yourself, and if you have one in ethnic costume, submit that too.
Here's the complete posting:
Casting for SOUTHEAST ASIAN men and women
(Thai, Indonesian, Cambodian, Malaysian, Filipino, East Indian, Vietnamese, Singaporean, etc…)
Ages 21 to 75 for an upcoming movie working in Fayetteville, GA.
*****************Important Notes*******************************
1. The pay rate is $64 for 8 hrs with OT after that
2. Work date is tentatively April 27th, however please submit asap for photo selection in advance.
3. Please NOTE the submission email below is a NEW one
*******************************************************************
Please submit to: SPUTNIKEXTRAS@GMAIL.COM
and put "SOUTHEAST ASIAN" in the subject line
PLEASE INCLUDE:
CURRENT PHOTOS – (1 face photo and 1full length
**AND** If you have photos of you in ethnic wardrobe, please include one in addition!)
Then please List the following:
First and Last NAME
PHONE NUMBER (s) (XXX-XXX-XXXX format)
Email address
CITY & STATE where you live (where you will be coming from!)
AGE
Height
Weight
SIZES:
Men: Jacket, collar, sleeve, waist , inseam, shoe
Women: Dress size, bust (bra/cup) waist, pants, shoe