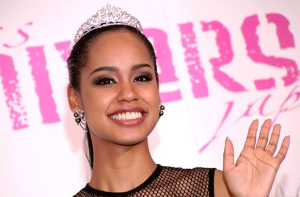 Japanese American Ariana Miyamoto will represent Japan in the 2015 Miss Universe pageant, reports Rocket News 24.
Miyamoto's father is an African American and her mother is Japanese. She was born in Sasebo, Nagasaki where there is an American naval base. The aspiring model won the Miss Universe Japan contest earlier this month and will compete for Miss Universe in January of 2016.
The 20-year old Miyamoto has received some backlash for being haafu, the Japanese term for being half-Japanese.
"She has too much black blood in her to be Japanese." wrote a dissenter on social media.
But other have been just as quick to come to her defense. "Having a different ethnicity in you doesn't make you ANY LESS JAPANESE," wrote another.
One of her biggest role models is another birracial American, Mariah Carey. You can read her comments about that in  Rocket News 24.
Miyamoto is completely fluent in Japanese which you can clearly see in the clip below.