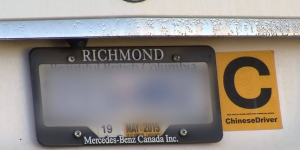 A bumper sticker in Vancouver, British Columbia that plays on the stereotype that Asians can't drive is drawing smiles from some, and charges of racism from others, reports  CTV.
Those laughing are mostly Chinese Canadian and those charging racism are mostly Whites.
The sticker has a large C on it and underneath in small print it says Chinese driver. It's meant to mimic the new driver N sticker or L learner sticker  which is similar to a temporary driver's license.
"It could be very light hearted. Maybe people are just trying to amuse people," said Queenie Choo of S.U.C.C.E.S.S, a  social service group in the Chinese community. "I don't know what  the intentions are, but I don't think there was any intentions to be racist."
But Gary Menard disagrees.
"It's wrong and it's just not an area where I think we should be going," he said.
You can watch the video report of this story on CTV.