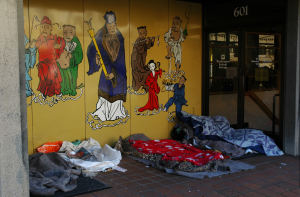 The latest count in Seattle shows homelessness is up 21 percent in the city of Seattle, but those who work with the Asian American and Pacific Islander homeless population suspect the actual numbers are much higher.
The International Examiner spoke with Michael McKee, operations and health services director at the International Community Health Clinic (ICHS). He called many of those who use the Clinic's services part of the "hidden homeless."
McKee says such counts don't include those surfing on couches or doubling up with other family members temporarily. Many in the Asian community are reluctant to identify themselves as homeless.
"If you ask someone if they are homeless, 99 percent of those people will say 'no,'" he said.
As part of its mental health services, ICHS also offers renters rights clinics, and job workshops to help stabilize their lives. Particularly in the Asian community, the homeless can feel very isolated.
"People of color are being forced out of their neighborhoods … [and] there's unaffordable rent and a high cost of housing. If you can't even afford a microunit, how can you afford two- or three-bedroom housing?"  said Sharon Lee, executive director of Low Income Housing Institute (LIHI). "If the battleground [in Seattle] is affordable housing, that's where you need to put city resources."
You can learn about some of the factors contributing to homelessness in the Asian American and Pacific Islander communities in the International Examiner.