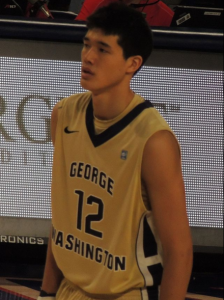 Could you dunk at age 16?  Yuta Watanabe could.
Watanabe is a 6 foot 8 inch transplant from a small town in Japan called Miki in Kagawa Prefecture who now plays basketball for George Washington University. Currently the Colonials' sixth man, he averages about 8 points per game and shots over 80% at the free throw line.
As only the fourth Japanese-born player on a Division I team, Watanabe is an unexpected sight on the courts.  Despite this, the
NY Times
reports he is an extremely popular student, and when he dunks or makes spectacular 3-point shots, his fellow Colonials "often react in hysterics, following with chants of 'Yu-ta! Yu-ta!"
Watanabe will showcase his talents in a second round game against Temple in the NIT Tournament at Madison Square Garden in New York this Sunday.
Even opposing players can't help but find Watanabe's play and positive attitude inspiring.
According to University of Richmond guard Zach Chu, "seeing someone of Asian descent play as well as he does is cool for college basketball and really cool for the Asian community."
To view some photos of Watanabe and his teammates, go to the
Washingtonian. 
To learn more about his basketball accomplishments, go to the
NY Times
.