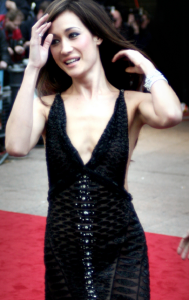 Maggie Q has no doubt heard the rumors that her show Stalker will be cancelled by CBS, but she's not letting on if she's nervous about the show's future, reports Pulse.
The CBS crime thriller on which she co-stars with her  rumored fiance Dylan McDermott is currently on hiatus and has suffered from low ratings. The network has not yet announced whether the show will be renewed for a second season.
"I don't feel entirely anxious about those things," she said. "I don't leave an experience thinking I didn't give it my all. At the end of the day if you do that you have no regrets."
Q has a small recurring role in the movie series Divergent which premiered the second of four movies on Friday,  The Divergent Series: Insurgent. Q is joined on the movie this time by Daniel Dae Kim of Hawaii Five-O and Lost fame.
Maggie filmed both Insurgent and her show Stalker simultaneously for six weeks during the summer.
You can read how she survived the hectic schedule and her thoughts on not getting more screen time in Insurgent in Pulse.