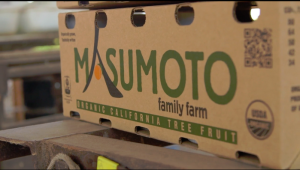 By Ariel Neidermeier
Patches of sunlight fall on his face as David "Mas" Masumoto reaches up and picks a perfect yellow peach from one of the sprawling fruit trees on the 80 acres of his family farmland just south of Fresno, Calif.
"That's the gold dust we're looking for" he murmurs approvingly as he takes a bite.
This is just one of the many satisfying scenes served up in the new documentary Changing Season: On the Masumoto Farm produced by the Center for Asian American Media (CAAM). The film premiered this weekend at the Oakland Museum of California as part of CAAMFest 2015. The film follows the Masumoto Family during a year of drought and changes on their organic farm, where they cultivate peaches, nectarines and grapes (for raisins).
The sweetness of the film lies not only in the breathtaking scenery of flowering peach trees against the backdrops of dusty gold Central Valley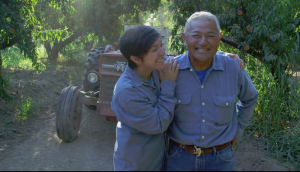 sunsets, but also in the deeply emotional story of a 4th generation farming family who love their land and seek to preserve it. The film follows daughter Nikiko after she decides to carry on her family's legacy and transitions back to living and working on the farm. At the heart of the story lies her relationship with her father Mas, who teaches her the ways of the farm and the lessons of patience, humility and resilience that are intrinsic to farming.
For a story that seems ordinary: the succession of a family farm, filmmakers Jim Choi and Chihiro Wimbush have created a narrative that feels extraordinarily significant. Said director Jim Choi in a Q & A after the screening:
"In rural communities how many children are leaving the farm versus coming back and taking up the family mantle? It's a rare thing these days. Instead, you see the death of the family farm happening over and over again."
The idea of this small family farm surviving despite drought and the rise of competing commercial farms is all the more inconceivable considering its origins: the first 40 acres of the farm were purchased by Takashi "Joe" Masumoto—Mas' father—a first generation Japanese American who lived in an incarceration camp for years during World War II. It is this same legacy of resilience and fortitude that shines through Nikiko as she grapples with the idea that her father is getting older and that one day she will hold the sole responsibility of managing the farm and—hopefully—make it thrive. I give this documentary a 4/4 for its incredible spirit of love and its portrayal of the endurance of one farming family, which speaks to a larger appreciation for the men and women who cultivate the food we eat.
[vimeo 122365483 w=500 h=281]