After taking a week off for a repeat, Fresh Off The Boat returns tonight with a new episode.
Mom Jessica (Constance Wu) and her son Eddie (Hudson Yang) both could use a confidence boost with Jessica feeling a bit on edge when she compares herself with Orlando's top realtor.
She decides she isn't good enough to compete and delays taking the exam for her real estate license.
Eddie still has his eyes on older neighbor Nicole (Luna Blaise) and turns to dad for advice on how to win her affection. Look to Eddie to turn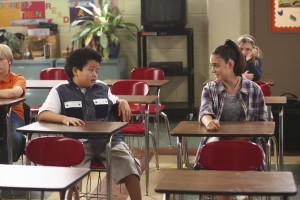 detention into a chance at a love connection.
Be sure to join the live tweet party using the hashtag #FreshOffTheBoat. The show airs tonight at 8/7 Central.