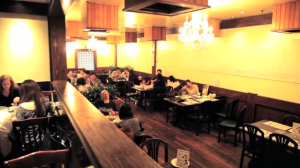 A judge has ordered a Korean restaurant in New York to pay $2.67 million dollars in back wages, reports the New York Times.
The order follows a lawsuit filed by 11 workers at Kum Gang San who say they worked 16 hour days with no overtime and below minimum wage. They also said the manager asked them to go to  farm and pick cabbage on their day off.
"I do see this as a victory because this lawsuit, yes, was about getting the money we were owed, but it was also about changing conditions," Chul Park, 47, a former employee said. "Even though I am no longer working here, I know that this is going to impact the workers who are here now."
The restaurant disputes the claim and say it will appeal. The case was filed by the non-profit Asian American Legal Defense & Education Fund.
This is the not the first time the restaurant has gotten into trouble over its labor practices. You can read about that in the New York Times.