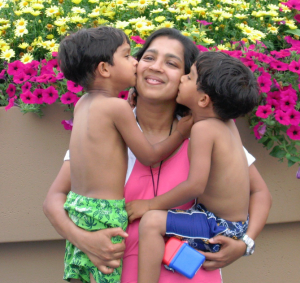 An Indian American mother hopes Congress can pressure India into returning the twin boys kidnapped by her ex-husband, reports NJ.com.
Bindu Philips went with her twin boys and then husband to India in 2008. She said her husband abused her and returned to the US alone.
"Every day I awaken to the heart-wrenching reality that I'm separated from the children that I love more than anything in this world," Philips told a U.S. House Foreign Affairs subcommittee hearing today. "I am here because I can no longer fight the good fight on my own."
Under the Sean and David Goldman Child Abduction and Return Act, the State Department can suspend foreign aid to any country that signed the Hague Abduction Convention and does not return a child abducted by the non-custodial spouse within 12 months.
Philips hopes the State Department will take up her case.
You can read more of her testimony to the U.S. House Foreign Affairs subcommittee this week and learn about the Goldman Act on NJ.com.