Tuesday night's episode of
Fresh Off the Boat
is being called by some the LGBT episode.
Jessica's ex-boyfriend Oscar Chow (guest star Rex Lee) comes to visit. She hopes Oscar will make her husband Louis jealous and is disappointed when he isn't.  Jessica  seems completely blind to the fact that Oscar is gay.
Meanwhile, Eddie is far from the studious Asian kid who loves science. In fact, he does his best to get out of a science project.
A free community viewing of this episode at the Japanese American National Museum in Los Angeles is sold out. The event is free, but requires reservations via
Eventbrite.
Lee will join a live panel following the program, along with Executive Producer Nahnatchka Khan, author comedian D'Lo and artist/organizer Erin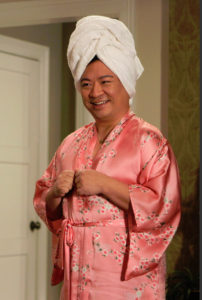 O'Brien.  Filmmaker Curis Chin of
Vincent Who
&
Tested
fame will moderate the panel.
This is an important episode for Fresh Off the Boat as it would be nice if the show could reverse its downward trend in the ratings.  In its regular Tuesday night time slot, it scored a high of a 1.9 rating in the 18-49 demographic on both February 17 and 24, but since then has seen its ratings slip to last week's  1.4.
In his column for
Rafu Shimpo
, Guy Aoki of the Media Action Network for Asian Americans admitted he's worried about the "downhill slope." On the plus side, the show has been seen by more than 19 percent of all Asian households within 7 days of its original airing. This of course includes digital and DVR viewing.  That compares to 14 percent of all races combined.
Fresh Off the Boat can be seen Tuesday nights at 8/7 Central on ABC and stars Randall Park as Louis, Constance Wu as Jessica, and Hudson Yang as Eddie.