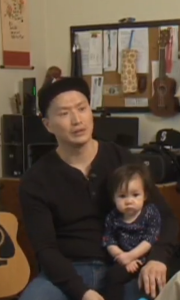 Despite widespread support from the community and his US Senator, the federal government is moving ahead with a deportation hearing for Korean adoptee Adam Crasper, reports KGW.
The 40-year old was adopted by abusive parents when he was three and spent his teen years homeless. He got into trouble in those years and received a felony conviction for burglary.
Crasper has long turned his life around and now is married with children.
Yesterday on his 40th birthday, the government slapped new immigration charges on him in an effort to deport Crasper.
His abusive parents never completed his citizenship process. The Child Citizenship Act of 2000 automatically grants citizenship to adopted children, but the law is not retroactive. So Crasper is still not a citizen.
US Senator Jeff Merkley (D-OR) wants to change that. He's sponsored a bill that would grant citizenship to all adoptees.
You can hear Crasper talk about his ordeal in the story below from KGW.
18 Million Rising has information on how you can support Crasper.