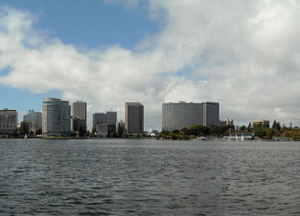 The East Bay Express is reporting that mostly Chinese and Vietnamese speaking immigrants who spoke little or no English were misled by the developers into supporting their luxury condo project near Oakland's Lake Merritt.
The seniors were bused by the developers to the meeting and held up signs which read "We Support! The Residential Project @ East 12th St. & 2nd Avenue."
Anh Nguyen who speaks Vietnamese and who was at the meeting for another matter approached the seniors.
"I saw a whole group of them standing together, so I asked them all, 'do you know why you're here?' They said it was for affordable housing," Nguyen said.
The project would not include any affordable housing. Nguyen said the seniors told her they were told by developer Lynn Truong that this would be an affordable housing project.
Other bilingual members of the public said they heard similar stories from the seniors.
The planning commission ultimately approved the project with only one dissenting vote. The Oakland City Council must still approve the sale of the land to the developer, Urban Core, which called Nguyen's comments a lie.
You can read about that in the The East Bay Express.