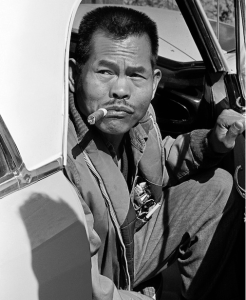 The Center For Asian American Media (CAAM) continues its yearly celebration of Asian American and Pacific Islander Heritage Month in May 2015 with a slate of programming including a FILIPINO AMERICAN LIVES series of three documentaries, director Wayne Wang's (THE JOY LUCK CLUB) latest film A SOUL OF A BANQUET, and a brand new six-episode series titled LUCKY CHOW which explores Asian food and its influence across the country.
From game-changing labor movements to the many cuisines of Asia to the significance of iconic public transit, here is a list of this year's programming that further illustrates some of the many diverse stories of Asian and Asian American culture. 
FILIPINO AMERICAN LIVES (hosted by Tony Award winning actor and singer Lea Salonga)


THE DELANO MANONGS by Marissa Aroy
30 minutes
Director Marissa Aroy puts the spotlight on trailblazing labor organizer Larry Itliong in THE DELANO MANONGS. Itliong and the Filipino farm workers instigated a defining moment in the American farm labor movements. Often overlooked in history, Itliong help lead Filipino, Chicanos and other ethnic farm workers in the Delano California Grape Strike of 1965 which, then brought about the creation of the United Farm Workers Union. The documentary uses interviews as well as archival and present-day footage to illustrate a story that highlights the many struggles and achievements of the movement
JEEPNEY by Esy Casey and Sarah Friedland
30 minutes
The artistic and vibrant modes of public transportation known as the jeepney represent a totem of tradition in the Philippines. Director Esy Casey goes beyond the exterior of the decorated ex-WWII military vehicles and follows the lives of three people who share a connection to the jeepney: Gerry, a witty driver who has deep affection for tradition; Lhudz, whose remarkable artwork appears on the vehicles; and Manny, who grew up near a US military base and watched the evolution of the jeepney. With the vivid and historically rich jeepney, the documentary uncovers deeply personal stories and the effects of globalization.
HARANA by Benito Bautista
60 minutes
After his father's death, classically trained musician Florante Aguilar returns to the Philippines after 12 years. While there, he is re-introduced to the music of harana, a tradition where Filipino men would sing under the window to declare their love for a particular woman – a serenade. Florante travels to provinces and meets some of the surviving harana musicians. From there, they help a young man serenade his object of affection which grows into a resurgence of the long l ost art. The men start performing in prestigious concert halls and record the first authentic harana album in 50 years. HARANA captures a tender side of the Philippines that is rarely seen.
SOUL OF A BANQUET by Wayne Wang
60 minutes
In the documentary SOUL OF A BANQUET, celebrated director Wayne Wang (THE JOY LUCK CLUB) follows Cecilia Chiang, the woman who introduced America to authentic Chinese food. Her internationally renowned San Francisco restaurant The Mandarin opened in 1961 and changed the course of American cuisine. Through interviews with Alice Waters, Ruth Reichl, and Chiang herself, the documentary showcases Chiang's remarkable food and paints a touching portrait of her life.
LUCKY CHOW by Bruce Seidel
Six 30-minute episodes
From Peking Duck in Manhattan's Chinatown to the kimchi of Los Angeles's Koreatown to the nationwide ramen renaissance, the six-episode travelogue takes audiences across the country to show us how Asian cuisine has transformed the landscape of food in the United States. The series also takes a look at some of the country's most talented chefs including ramen chef Ivan Orkin, carpenter turned Thai chef Andy Ricker, Filipino Food Movement founder PJ Quesada, and Korean adoptee TOP CHEF winner Kristen Kish.
STATELESS by Duc Nguyen
60 minutes
Directed by Emmy Award-winning filmmaker Duc H. Nguyen, STATELESS presents another side of immigration by following a group Vietnamese people who are not considered as a national by any state, or "stateless." Through flashbacks and real time interviews, Nguyen uncovers the complicated international history and politics in the post Vietnam-American war era, which resulted in over 2,000 Vietnamese refugees or "Long-Stayers" in the Philippines trapped without nationality or citizenship.
MEMORY OF FORGOTTEN WAR by Deann Borshay Liem
30 minutes
Historians Bruce Cumings and Ji-Yeon Yuh curate four accounts from survivors of the Korean War (1950-1953) in MEMORY OF FORGOTTEN WAR. Through newsreels, U.S. military footage, and archival photographs, the documentary gives historical context to these personal stories of loss, struggle, and struggle.
THIS IS MY HOME NOW by Mariah Dunn Kramer and Dean MacLeod
30 minutes
THIS IS MY HOME NOW documents the lives of four Montagnard youths whose families have come to American in the past decade from Asia. They live in two worlds—that of their parents and grandparents, who lived in the highlands of Viet Nam but fled from government persecution for their Christian religion and desire for autonomy—and one of constant learning and adaptation to be Americans in North Carolina. The program builds on an oral history project that involved 12 Montagnard teens in the Young Historians, Living Histories initiative, which was a 2013 collaboration of the Smithsonian Asian Pacific American Center, Smithsonian Affiliations, the Greensboro Historical Museum and CAAM.
Please check your local PBS listings for days and times for when the episodes will ai