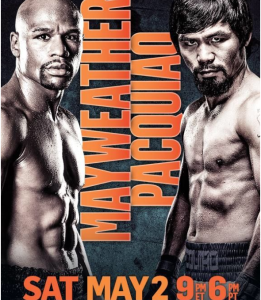 It's hard to believe, but after years of back and forth, the Pacquiao-Mayweather fight will become a reality in just three weeks.
Those who can't make it to the MGM in Las Vegas to see the fight in person can watch on Pay Per View.
While much cheaper than seeing it in person, you can still expect to shell out a few bucks.
Prices will start at $89.95 and goes up another $10 if you want to see it in high definition. The price is actually what many predicted when the so called "fight of the century" was first announced.
It's about 40 percent higher than what was charged in 2013 for the Mayweather – Canelo Alverez battle.
The camps of both Pacquiao and Mayweather are still reportedly haggling over the share each fighter will receive from PPV.
You can read about that in BitBag.