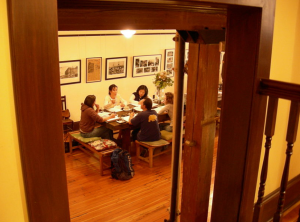 A prominent preservation group has named the Panama Hotel in Seattle a national treasure for its part in Japanese American history, reports, KPLU.
Many Japanese Americans families stored their treasures in the hotel's basement before they were imprisoned in incarceration camps during World War II. Unfortunately, many of those families never had a chance to return to Seattle to collect their belongings.
"We're working with the landowner to document and inventory all the personal belongings that were left in the basement so they'll be catalogued for the first time ever and available online for research and study," said Stephanie Meeks, executive director of the National Trust for Historic Preservation.
The addition by the Trust of the Panama Hotel on its national treasures list is significant because its current owner is considering putting the hotel up for sale.
Jan Johnson bought the hotel in 1985 and has maintained its historical integrity. The Trust wants to make sure the next owner does the same.
"This is American history at its finest," Johnson said. "You can just walk in here and feel it, smell it, breathe it."
You can learn more about what Johnson did to maintain the hotel's history on KPLU.
RELATED STORY: