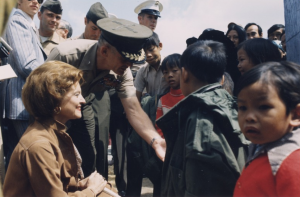 An event marking the 40th anniversary of the Fall of Saigon and the historical significance Camp Pendleton near San Diego played is in jeopardy, reports the OC Register. (Photo from Gerald R Ford Presidential Library of First Lady Betty Ford greeting refugee children at Camp Pendleton).
The event on April 25th was expected to attract 50,000. The Marine Corp base was the first on US soil to house Vietnamese refugees after the Vietnam War.
US policy bans the use of South Vietnamese symbols on federal property.
"I put the chance of holding the event at 5 percent," said Kenneth Nguyen, spokesman for the event's organizing committee. "We're looking at options to hold the event somewhere in Little Saigon."
The event has been in the planning stages for a year. The Marines say they are looking to see if they can win an exemption from the policy.
You can read about the historical re-creation planned for the base and what might be done to still save it in the OC Register.