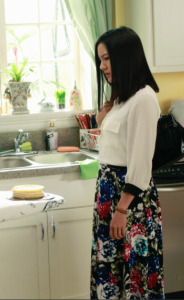 Constance Wu who plays mom Jessica on Fresh Off The Boat was the first to come to the defense of Eddie Huang after a blog on AsAmNews criticized him for speaking out against the show.
Huang said in series of tweets that he barely recognizes his own life on the show supposedly based on his memoir. He said he was a victim of domestic abuse growing up and is disappointed the show has ignored that important, but dark chapter in his life.
AsAmNews responded that a large following of loyal fans do relate to the show and can see the stories of Asian Americans portrayed on national broadcast television on a weekly basis for the first time in 20 years. It bluntly stated, perhaps it was time for Huang "to shut his mouth."
That lead to this retort from Wu in a stern tone Jessica would normally reserve for her mischievous son Eddie.
@AsAmNews @MrEddieHuang I disagree. He shouldn't be told to shut his mouth nor quiet his voice simply bc it's one of dissent.

— Constance Wu (@ConstanceWu) April 9, 2015
Followers of Wu quickly joined the condemnation of AsAmNews' blog post.  

@AsAmNews It is about him. If folks want to tell their API experience tell them to write their own pilot. — that dude rj (@thatduderj) April 10, 2015
@mindmodel @MrEddieHuang @AsAmNews right! bc if we need to quiet our voices just to hold onto scraps then what are we really holding onto? — Constance Wu (@ConstanceWu) April 9, 2015
But some fans became confused wondering if Eddie was withdrawing his support from ABC's Fresh Off The Boat and encouraging them to no longer watch it.
@ConstanceWu @MrEddieHuang @mindmodel @AsAmNews so do I keep watching the show orrr….????

— jawk (@jawk) April 9, 2015
@MrEddieHuang @jawk @mindmodel @AsAmNews yeah just be u… i support the show. i support eddie. they can co-exist if u don't speak from fear — Constance Wu (@ConstanceWu) April 9, 2015
Like the show, watch the show but feel free to think what you want. You can't have the weight of racial group think hanging over your head.

— RICH HOMIE HUANG (@MrEddieHuang) April 9, 2015
Yes, perhaps telling Eddie Huang to "shut his mouth" was a bit harsh. Yet it certainly wasn't more harsh than the tone of Huang's own tweets. If anyone can take it, he can.
Yes, perhaps I'm a bit nervous that a show Asian America has waited for for 20 years may get cancelled. Fear? Maybe. But a dose of reality as well.
What did Huang think his tweets would accomplish? Production for this season is over. All 13 episodes are done and just waiting to be aired. In fact just two more original episodes remain.
If Eddie was hoping to influence the show this season, he's waaay too late. If he's waiting to influence the show for next season, he's waaay too early because there's been no announcement about next season yet. The timing of his outrage seemed a bit peculiar.
As I said Eddie in the earlier blog post, you're THE MAN. Just sometimes even THE MAN needs to tone down his act a bit.
@ConstanceWu @MrEddieHuang @jawk @mindmodel @AsAmNews One of the neatest shows on tv this season. Don't F it up with BS, please.

— D Norman (@Tastazou) April 11, 2015
@MrEddieHuang I love the show, I can relate to it so much growing up in the same period. It's a throwback to some good times. — VIKINGNAIL (@VIKINGNAIL) April 9, 2015