UPDATED APRIL 15: THE AUCTION HAS BEEN CANCELED. Go to Japanese American Facebook page for latest. Link below.
A movement is underway to stop the scheduled auction of art work done by some of those Japanese Americans imprisoned in incarceration camps during World War II and other mementos from that time.
The group Japanese American History Not For Sale launched on Facebook April 8 and in a short amount of time has generated nearly 900 likes.
One of those who objects to the sale scheduled for Friday saw an image of his late mother up for auction.
"The government used this young's woman's smiling likeness to mask the tragedy suffered by her and the entire group of innocent people," wrote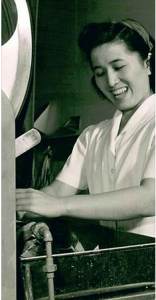 Yoshinori Himel in a letter to the auction house Rago in New Jersey. 'Each item donated to the collector and offered by the consignor was a product of that injustice. To profit from these items is a second injustice."
According to the administrators of the Facebook page, the art and other items being auctions were amassed by Allen Eaton. Eaton was opposed to the wartime imprisonment and "wanted to display the beauty" that was being made in the camps.
"How could this story be told to the world outside?" he wrote in his 1952 book, Beauty Behind Barbed Wire. He says he visited the camps and those imprisoned "offered to give me things to the point of embarrassment, but not to sell them…"
"I'm pissed and upset," bluntly wrote one commenter on Facebook, Satsuki Ina. "I imagine some nice Nisei elder feeling honored by Eaton's interest in something the elder himself didn't feel had much value, giving the item away as an act of gratitude. To then have that item sold in auction so someone can financially benefit from the arts and crafts that tell the story of survival and trauma seems like exploitation of the worst kind."
Rago directly responded to some of the criticism by posting the following on the Japanese American History Not for Sale Facebook page.
"The consigner and his family inherited the Eaton estate with its multiple collections from the Eaton family. He is a client for whom we have sold other property from the collections and with whom we have a relationship. They have held this property for over three decades and have been approached by multiple institutions asking them to donate. They take the responsibility for these collections very seriously, but are not in a financial position to donate.
"Whether the sale continues as planned is ultimately the decision of our consigner. If this auction does proceed on April 17, it is an opportunity for multiple museums and institutions to secure this property and for private citizens who have the means, individually and collectively, to donate."
Those argument, however, did not go over too well and those opposed are asking for more time.
"American citizens of Japanese descent were ordered into camps and only able to bring what they could carry in their hands. This forced them to hurriedly sell most of their precious personal items. The auction is an insensitive replication of this trauma that all of our families were forced to live through. Going through with this auction is emblematic of the same brutal insensitivity that characterized the original order to incarcerate our families.

" If a beautifully carved nameplate belongs to a family that can be identified, should not that person or persons have the opportunity to know this and have, at the very least, the option of first refusal? To ask that family to compete with national and perhaps international bidders to reclaim their family's material heritage, created under conditions for which the US Government apologized in 1988, is heartless and, in our view, not good enough. Please try to understand how humiliating it is for these families to participate in this auction.

"The items are slated to go on the auction block in seven days, next Friday. There is no time to research and explore the many questions this collection raises. Please slow down the process and remove these lots from your Great Estates auction. There are 450 camp items bundled into 24 lots in next week's auction. That is 3 percent of the entire estate auction of 747 lots. Removing the Japanese American heritage property will not stop the rest of that day's business from continuing and will show a sensitivity to how important these items are to our community.
To support the effort to stop the auction, go to Japanese American History Not For Sale