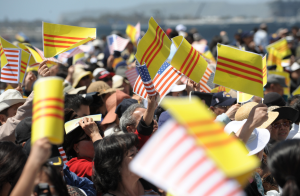 An event commemorating the 40th anniversary of the Fall of Saigon at Camp Pendleton in Southern California has been cancelled, reports the OC Register.
A federal policy prohibiting South Vietnamese symbols on federal property killed the event. Camp Pendleton was the home of many Vietnamese refugees who escaped South Vietnam after the communist takeover.
Organizers now have two weeks to find an alternative site and are looking for possible venues in Little Saigon big enough to hold the thousands who were expected to descend on the Marine base.
"We call it a banner of freedom and heritage and not having it would be a big deal," Kenneth Nguyen, the spokesman for the commemoration's organizing committee, said of the South Vietnamese flag. "We're looking at other possibilities, but we won't know until Monday."
You can learn more about plans for the event and the policy that led to it being cancelled in the OC Register.
RELATED STORY: