Two new web series featuring prominent Asian Americans have debut.
Based on the premieres, one seemed to barely get off the ground while the other has serious potential.
George Takei and his husband Brad star in It Takeis Two, a reality show based on the couple's day to day existence.
The opening credits play like the title sequence of Bewitched, the popular sitcom that aired from 1964 to 1972 featuring a witch and her human husband.
In this case the pairing is a real life gay couple.  Is this the Takeis' view of how some of America looks at gay marriage or am I making too much of this? I'm not sure myself, so I'll let you decide.
In episode one, Brad is having trouble with the way he is portrayed in an internet meme that's making the rounds. He goes to extreme lengths to try to get the meme taken down.
It's worth a chuckle or two, but frankly how much can you do with a three minute episode?  I'm not giving up on It Takeis Two just yet, but I'll need more to keep coming back.  I give the premiere two stars.
Aasif Mandvi's Halal in the Family has been compared by some to All in the Family, Norman Lear's groundbreaking hit comedy that aired from 1971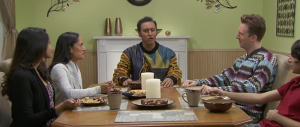 to 1979.
The show features the Qu'osby family (perhaps a take off on the Crosby family?).  The laugh track is extremely irritating. It's almost as if Mandvi was unsure how people would react to his satire and needed to reassure his audience they were watching a comedy.
However, by half way through the 6 minute episode, I was laughing out loud.
Aasif Mandvi as Aasif Qu'osby brings home a white neighbor played by Jordan Klepper.  When Qu'osby finds out his neighbor his Muslim, Aasif immediately suspects his neighbor is an FBI spy.
There's a lot of potential with this bit and the debut definitely has me wanting more.
The show stars Sakina Jaffrey as Aasif's wife Fatima. The children are played by Shoba Narayanan and Nicky Maindiratta.
The debut of Halal in the Family is worth three stars on a four star scale.