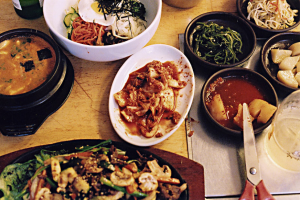 When Taco Bell came out with its Siracha bowl, you knew the popular Asian hot sauce had gone mainstream.
Now there's signs kimchi could become part of the next wave of culinary creativity. A staple in Korean diets, but considered an acquired taste by many outside the Korean culture, kimchi is showing signs of gaining acceptance to the American palate.
The Men's Journal reports the popular New York eatery, Umami Burger, recently added the K-BBQ to its menu at its newest location in Brooklyn. The Korean Barbeque Burger is topped with a caramelized cabbage-based kimchi and has become a fan favorite. The restaurant plans to add the K-BBQ to its menu at all its other locations.
Umami's executive chef Ted Hopson joins other notable chefs in finding new uses for kimchi. Others include Roy Choi, David Chang, Hooni Kim, Jenny Kwak and her mom Myung Ja Kwak.
"They have all done more to mainstream those flavors than anyone else," said author Alexander Chee. "In particular, Roy is the one who made Korean tacos a thing, which happened pretty much as a relationship between him and the Mexican food and Mexican American people around him in Los Angeles."
You can read more about the mainstreaming of kimchi and get a recipe for a kimchi taco in the Men's Journal.