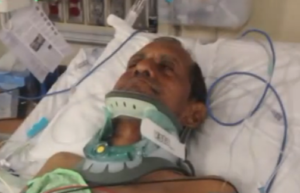 Former Alabama police officer Eric Sloan Parker entered a not guilty plea in the beating of an Indian man visiting his grandson, reports the Guardian.
Parker is accused of using unreasonable force and a federal charge of violating the rights of Sureshbhai Patel.
The 57-year-old Patel who was left partially paralyzed is still recovering from the February incident.
The whole thing was captured on video by a police dash cam camera.
The beating has become international news and the governor of Alabama has apologized to the government of India. The family of Patel has filed a civil lawsuit and state charges are also pending against Parker.
Related Stories
Grandfather Speaks for First Time Since Being Slammed to Ground by Police Officer