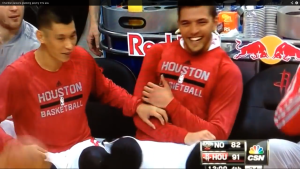 It's been widely speculated that Jeremy Lin will leave the Los Angeles Lakers now that he is a free agent.
The Sports Blog lists five possible teams where Lin could land– Houston Rockets, Dallas Mavericks, Denver Nuggets, and NY Knicks. The article also suggests possible scenarios where Lin could return to the Lakers, which he has not ruled out.
It's interesting three of the teams listed are teams Lin has already played for– the Rockets, Knicks and Lakers. The Denver Nuggets are listed because Mike D'Antoni is rumored to be one of the front runners there for the head coaching job. Lin had his best success with D'Antoni when the two were together with the Knicks and the two have kept in touch.
If D'Antoni were to get the job, I would put my money on Lin returning to the Nuggets. If not, I think the Marvericks will make a strong push for Lin. Point guard Rajon Rondo could leave this off season as coach Rick Carlisle has said he doesn't see Rondo returning. The other guard, Monta Ellis, could also potentially leave.
Ellis' immaturity is wearing thin in Dallas and he is reportedly not happy there. Lin could be a good option for the Mavs.
You can read the reasons why Lin could end up on the other three teams in the Sports Blog.