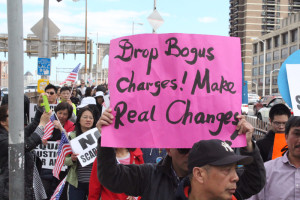 By Henry Lam
(The following was submitted in response to Jason Fong's blog in support of the indictment of Peter Liang in the Akai Gurley case).
I know I'm not going to be able to change anyone's views just by this one post, but I would like to give both sides to see clearly what is going on here. Why the divide, the disagreement.
Did Peter Liang do something wrong? Yes. Under the perfect world, the just and fair world, should he be indicted? Yes. Does all your logic make sense? Yes. However, we are not in a perfect world. That is the truth, that is the reality. This world is not fair, and to get justice, we must play by its rules.
Do you not see that the Asian community is always so divided? Why? Some Asians believe in fairness, and justice to support and promote a just and safe society. Sometimes (like a certain Judge I dealt with), seemed to have something to prove to the white community, that she will not show preference to her fellow Asians (note: I was quiet, obedient, didn't say much, only answered her questions as she asked them..typical Asian, but she still barked at me, wouldn't let me even finish a sentence of answering her questions, etc). Here's the thing…by you showing fairness and justice it is causing fighting within our own Asian society, a divided Asian community.
If you look at the Jewish community and the Black community, do you not see that they are always on one side of the fight, no matter how wrong they are? Look at Al Sharpton standing up to speak for the Black Community all the time. Is it apparent that he is biased, that he only cares if it's Black people, and he doesn't say anything when it's not? Hell yea. Does he get criticized for it? Yes. Does it make a difference to his influence on the political leaders? No. There are some Jewish people that disagrees also with the Jewish community, but they don't speak out publicly about it. The same goes for the Black community. Basically, if they have nothing good to say, nothing good to contribute to their cause, they will not say anything. What this does is, it gives the power to the Jewish or Black Community to fight for their cause, to correct any injustice.
How are Asians helping to fight for justice, when we are not all on one side? How can we accomplish anything when we are so divided? How can we fight a war as a whole army to correct injustice, when there is fighting within our own? This makes us so weak as a voice in society. So by you standing up for justice, regardless of race, you are weakening our Asian community voice, to fight a country controlled by the White/Jewish and Black community.
The question is how do you think there will be a change in law, in society, to create a more accountable police force? I do not believe indicting Peter Liang will do that. Quite the opposite actually. Notice the Black community isn't protesting and rallying quite as aggressively anymore. Peter Liang gets indicted, and maybe jail time..then what happens? You really believe the next time a White cop kills a Black person, suddenly the White cop will be indicted, now that Peter Liang got indicted? As I said, this world is not fair, not just..and to make a change (throughout history), a big enough group needs to stand up, stand out, and demand justice. Rosa Parks violated the law when she sat in the front of the bus. Protestors violate the law and get arrested when they block traffic. Laws need to be broken, to make a stand, to make a voice that is heard, so that there will be change. By being divided in the Asian community, and by supporting the indictment, you are giving in, you are following the White society's rules, and losing a voice for change.
While in a perfect world, fairness is that Liang should be indicted, but that is not what will help promote change and justice for society. Peter Liang is being a scapegoat to satiate the Black community, and take the focus off the white cops. If you really want something to change, then we should be supporting Liang. And the reason should definitely be because the other White cops did not get indicted. American Courts are based on Law of Precedence. We need to, as the entire Asian community, put pressure on the White political leaders, to be at an uneasy, uncomfortable state, where they are forced to make a change. The Black communities, will see again and again that nothing is happening, nothing is changing, and continue to protest and make their voice known. Just like during the 1960s racial equality movement, Asians marched right alongside blacks. Both Blacks and Asians need to band together, not start fighting each other. And definitely not fighting within our own race. Just imagine how powerful the Asian voice can be, if only we are smart enough to follow the footsteps of what works, of the Black and Jewish community, that our voice only has strength if it is united as one, to demand for fairness in this country.
If you truly want change, it is to fight for change, not to let them follow their own laws, when they feel like it. Do not be satiated and believe that this is justice, and that things will change, because they are still in control, and exercising their power whenever they choose to. There needs to be new laws, new leadership, new policies to address the problems in the police force. There needs to be change, and we need to fight for it, as one voice.
RELATED STORIES

Protestors in New York Shout Justice for Peter Liang
Why Peter Liang Deserves to Be Indicted for Death of Akai Gurley
You're a Model Minority Until You're Not a Model Minority
Asian American Groups United for Justice Behind Akai Gurley
Support for Chinese Cop in Police Shootings Heightens Tensions
Indictment of Asian American Police Officers Splits the Community