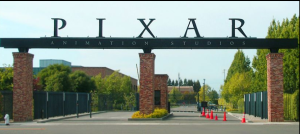 An animated short perhaps inspired by an Indian American animator's upbringing in two cultures will play in theaters beginning November 25 before the Pixar feature film, The Good Dinosaur, reports the Los Angeles Times.
Sanjay's Super Team is by Pixar animator Sanjay Patel. Patel has worked on such films as Toy Story 3, Monsters Inc, and The Incredibles. .
"My parents' whole world revolved around their gods, the Hindu deities," said Patel, 41. "Our worlds were diametrically apart. I just wanted my name to be Travis, not Sanjay."
Sanjay's Super Team begins with Sanjay watching cartoons as his father is trying to get him to come and meditate. Instead Sanjay begins to daydream around a group of Hindu gods in the roles of the superheroes.
The seven minute short will debut in June at the Annecy International Animation Film Festival in France.
Patel talks about the difficulties in embracing his culture while at Pixar and what John Lasseter has to say about that in the Los Angeles Times.