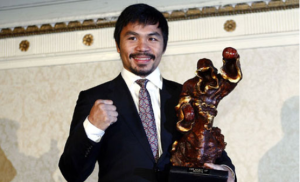 Saturday is an unofficial Filipino holiday.
You won't find it printed on any calendar, but Saturday, of course, is the day of the long awaited bout between Manny Pacquiao and Floyd Mayweather.
It'll be the night many Filipino businesses will close early.
As one business owner in Glendale told the LA Times, there's no point in staying open unless you're showing the fight on a big screen TV.
It'll also be a night many Filipino households will be gathered with family and friends to watch the fight at home despite the $100 dollars pay per view charge.
"For Filipinos generally, it's not one household paying," said one Filipino American who declined to give his name. "Whoever has the biggest TV, the biggest kitchen, the biggest living room — everyone's going to converge there to watch."
Many Filipino businesses plan to cash in on the fight. You can read about that in the LA Times