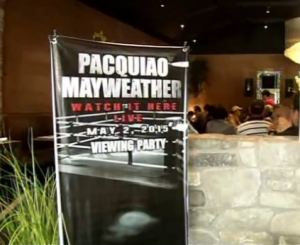 Tonight's the fight.
Ask most Filipino Americans and they'll know exactly what you're talking about.
No need to mention Manny Pacquiao by name. Don't even bother to mention Floyd Mayweather.
Tonight's the night fight fans have been waiting for for years–the quote un quote fight of the century between Manny Pacquiao and Floyd Mayweather.
In Daly City, known by many Filipino Americans as the Filipino capital of the United States, local businesses are gearing up for a busy night, reports ABC7/KGO-TV.
"He started out from the bottom and he worked his way up really, really fast, so we're really very proud of him," said Crissy Sagarbarria, from the Chibog Filipino restaurant in Daly City.
Another Filipino restaurant just south of Daly City in South San Francisco says it paid $7,500 for the rights to show the fight at their restaurant– Ft. McKinkley in South San Francisco. All 200 tickets available for the viewing are sold out.
"A lot of people are still calling to see if we have more tickets coming, but no more," Jun Cruz said.
Watch Filipino fans proclaim their allegiance to Manny Pacquiao in the clip below from ABC7/KGO.
Tweet us your photos with the hashtag #PacManAsAm and we'll do our best to showcase your PacMan pride on AsAmNews. If twitter is not your thing, send us your photos to randall @ AsAmNews.com with the subject line #PacManAsAm. We look forward to seeing your photos from your parties, your home, your bar, restaurant or from Las Vegas.