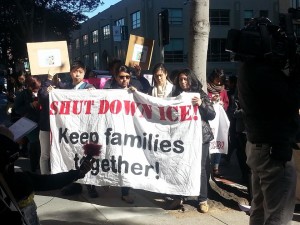 Nan-Hui Jo, the woman who escaped to South Korea with her daughter to run from what she considered an abusive relationship, has won the backing of 170 Asian American non-profit organizations.
In a letter signed by groups ranging from Asian Americans Advancing Justice to Asian Women's Center to Bayan USA. the groups urge the Department of Homeland Security to release Jo from immigration detention.
"Ms. Jo's case highlights the vulnerable and marginalized situations that undocumented people
and survivors of domestic violence face. From 2007 to 2009, Ms. Jo was involved in a volatile
relationship with her former partner. They had a child together in 2008. Twice in 2009, Ms. Jo
called the police in Sacramento after incidents of domestic violence. Ms. Jo also had received a
letter from the government asking her to leave, as she was out of status. After the second call to
the police, Ms. Jo feared for her safety and fled to her home country, South Korea, with her
child. When Ms. Jo left her child's father, he reported her for kidnapping. In July 2014, Ms. Jo
returned to the United States and immediately was arrested and extradited to Yolo County to await trial on charges of alleged child
abduction. Although her first trial ended in a hung jury in December 2014, the District Attorney decided to retry the case and Ms. Jo was convicted of child
abduction on March 3, 2015.
"We ask you to consider the unique circumstances present in this case. Ms. Jo still is engaged in
an ongoing custody dispute, and could be permanently separated from her child if your agency
picks her up on the detainer request. Moreover, Ms. Jo has a U Visa application pending, for
which an authorized law enforcement agency has verified her status as a victim of a crime.
As a coalition of organizations dedicated to protecting and advancing immigrants' rights and
providing support to survivors of domestic violence, we especially are concerned about Ms. Jo's case, given her status as an immigrant, domestic violence survivor, and mother. We ask that the Department of Homeland Security drop the immigration hold request against Ms. Jo. and release her from detention."
You can see the entire list of Asian American organizations backing Jo and the entire text of the letter here.