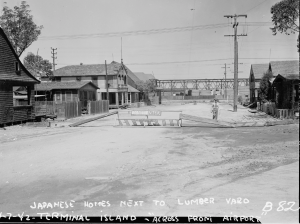 Asian American author Naomi Hirahara portrays the fascinating history of Terminal Island  in Los Angeles County, where the forced evacuation of all Japanese Americans occurred after Executive Order 9066.
In an interview with the LA Times, the co-author of Terminal Island: Lost Communities of Los Angeles Harbor succinctly described this forced evacuation of 1942.
"Soldiers, in full uniform with bayonet rifles, went door to door … with official notices. All residents of Terminal Island were given forty-eight hours to leave," Hirahara said.
Terminal Island was a popular community for Japanese Americans who worked in the fishing industries, as the island was home to nearly 3,000 Japanese Americans at one point. It's penitentiary also housed famous inmates such as Charles Manson and Al Capone.
Hirahara worked on the book with co-author Geraldine Knatz.
To learn more about Terminal Island and its varied history, visit the LA Times.

(The date of the incarceration camps has been corrected from an earlier version).