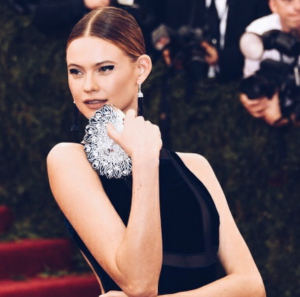 Despite some nervousness expressed by several bloggers including this one, there appeared to be no major cultural appropriation taboos at the Chinese-themed Met gala Monday night.
I wasn't there, but I spotted no Katy Perry American Music Award moments while scanning celebrity pictures posted on line.
Fashionista did spot a few celebrities trying to accentuate the fold on their eyes, something the fashion world calls cat eye. As fashion writer Fawnia Soo Hoo said, normally cat eye is not offensive, but in this context, it is.
"All of my childhood traumas are coming back to me," said Soo Hoo. "I grew up in the non-diverse Midwestern suburbs and had to suffer through other kids taunting me on the playground, pulling their eyes back toward their temples to mimic a "slanty-eyed Asian" stereotype. They were probably also supplementing the gesture with some sort of ignorant "ching chong" chant."
Among the offenders seen via Instagram were models Behati Prinsloo Levine (pictured left) and Natasha Poly seen below.
Connie Wang in her piece for Refinery 29 also found fault not only with the gala, but the exhibition the gala was celebrating. She called the exhibition China: Through the Looking-Glass more of a celebration of "orientalism," a perspective of China from the outside looking in. She wanted more. She wanted a two way conversation and what she felt like she got was something much less.
"A conversation only works between two equal, mutually respectful entities — so what is it called when one of them is a work of fiction made up by the other?"
You can read Wang's thoughts on this matter in Refinery 29. You can read Soo Hoo's opinion on the chop stick in the hair look and why she thinks Rihanna went overboard at last night's gala in Fashionista .