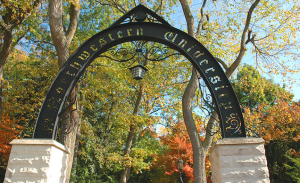 Students who participated in a hunger strike 20 years ago demanding Asian American Studies at Northwestern University looked back and celebrated Wednesday night while faculty renewed the push for the establishment of a major, reports the Daily Northwestern.
The strike in 1995 by 17 students is credited with the launching of an Asian American Studies minor on campus four years later.
"The strike led to a lot of sympathy and public outcry nationally and internationally," said Sumun Pendakur, one of the hunger strikers . "But, at the same time, at the end of those 23 days, we had no new promises from the administration. We had nothing in writing that would say that anything was ever going to happen."
Earlier this week, history professor Ji-Yeon Yuh said faculty would submit a proposal before the end of the year to create a major.
Currently Northwestern offers both an African American Studies and Latino & Latina Studies major. The University has claimed there hasn't been enough interest in Asian American Studies to establish a major, but students have pledged their support.
"I'm graduating next year, so I won't directly be on this campus to fight, but I will be in touch with the program and any way I can help I will," said senior Tiffany Chang.
You can read about the support the hunger strike gained 20 years ago in the Daily Northwestern along with more on the celebration