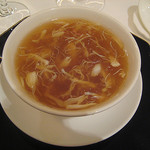 A San Francisco man has become the first person convicted under California's shark fin ban, reports ABC7/KGO-TV (photo by moohaha).
Michael Kwong entered a no contest plea before Judge Lillian Sing.
He must forfeit the ton of shark fin which were found by game wardens in various forms. The fins are said to have a black market value of $1 million. He was also sentenced to 30 days in the county jail which will likely be served through the Sheriff's work program.
You can hear reaction from animal activists and the defense in the clip below from KGO-TV.