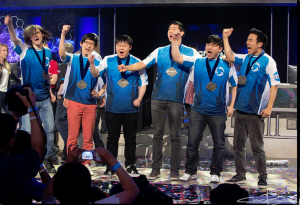 Students at UC Berkeley cashed in on their enthusiasm for video games, shocking their parents, reports the Daily Cal.
The UC Berkeley Golden Bears eSports team won the Heroes of the Dorm competitive video gaming tournament, defeating Arizona State.
"For the team, winning this championship on this stage was unimaginable. It was a lot of joy," said Kitae Kim, an international student from South Korea and member of the team.
The Hero of the Dorm tournament was the first collegiate gaming competition broadcast on ESPN2.
The sponsor of the tournament, Blizzard Entertainment, has agreed to foot the team members' college tuition for a year-a prize with a monetary value of $25, 000 apiece.
Kim was joined on stage for the medal presentation with fellow team members Fan Yang, Kitae Kim, Yue Gu, junior Conan Liu and graduating junior Zachary Mirman.
Kim said he didn't tell his parents about his involvement in the tournament until after he won.
Is it $300?" they asked, according to Kim. No, he told them — he had won $25,000.
"They were actually quite shocked," he said.
You can read about the future of eSports as a competitive competition in the Daily Cal here.
Photos by Global Corp