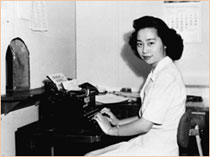 A Japanese American woman who went to the US Supreme Court to challenge the incarceration of Japanese Americans during World War II is being recommended for a Presidential Medal for Freedom, the nation's highest civilian honor, reports Honolulu Civil Beat.
Senator Brian Schatz (D-Hawaii) is asking President Obama to bestow the honor posthumously on Mitsuye Endo.
Endo refused to accept an offer to be released from the incarceration camp on a condition that she not return to the West Coast. Instead she chose to stay imprisoned so that her legal case against the evacuation order could remain active.
It's believed President Franklin Roosevelt lifted the evacuation after he got word that the U.S. Supreme Court would rule in Endo's favor. That ruling came down one day after FDR rescinded Executive Order 9066 that authorized the incarceration camps.
You can learn more about Endo's significance in American history in Honolulu Civil Beat.