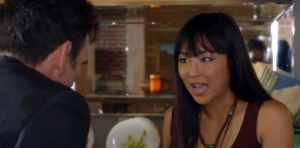 M Night Shyamalan's new TV mini-series Wayward Pines debuts tonight on Fox TV (9 p.m./8 central).
The show stars Matt Dillon making a rare appearance on television.
"I'll be honest with you: I don't really watch television that much," Dillon said to Fox News. "I liked this guy here on the left [Shyamalan] and the fact the he committed to it and I liked the script."
Wayward Pines takes place in a small Idaho town where everything that appears normal really isn't. The show is done in the tradition of Shymalan's movies such as his hit Sixth Sense.
"For Matt and I, we haven't really done TV… this form of being able to do an anthology and saying 'look, we will give it all for this and see how we feel' [attracted us to the show]," said Shymalan.
You can read about how the mystery unravels on Wayward Pines on Fox News.