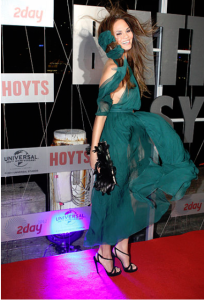 One of the most talked about unscripted moments last night on the Billboard Music Awards came when co-host and supermodel Chrissy Teigen made her grand entrance onto the stage.
The wife of John Legend whose mother is Thai and father is Norwegian didn't enter from stage left, but instead she walked through the audience with co-host Ludacris.
On her way up the stairs, an audience member crossed paths with Chrissy and tripped over the model. That person could be seen falling to the ground and Chrissy continued on up the stairs.
Some on Twitter questioned whether Chrissy should have stopped to pick up the woman? What do you think?
Others on Twitter were more kind, commenting on her wavy hair and many wardrobe changes.
Just last month, Chrissy set twitter on fire when she commented on being called a "chink" by a stranger.