When Katherine Chan was 7 years old, she watched a group of girls brutally beat up another girl in an alley near where she lived. The girls were students at the Chicago Math and Science Academy, a public charter school in Rogers Park, a neighborhood 9 miles north of Downtown Chicago and near Chan's family residence at the time (Photo by Gerald Farinas).
"It was frightening to watch that as a little kid," Chan said. "Because of that poor experience my parents had when the school was across the street from us, they were determined to send me to a high school outside of the neighborhood."
Today, Chan is a senior at Whitney M. Young Magnet High School, a selective enrollment public high school located in the Near West Side neighborhood. Even though
Chan has lived in Rogers Park her whole life, she has never attended school there.
Chan's story is just one example of how high-achieving Asian American students are
rejecting Rogers Park schools in favor of selective enrollment high schools or more
rigorous private schools.
Many Asian American students cite the lack of resources and academic rigor as the main
reasons why they choose schools outside of Rogers Park. In the eyes of their parents, the
local schools fall short of their expectations for their children's educations. The most
practical solution to this problem is to send their children to better schools in Chicago.
One of the local elementary schools in Rogers Park, Philip Rogers Elementary School,
has a student body that is 28.9 percent Asian. However, the public and private high schools in the neighborhood have much smaller percentages of Asian Americans in their student bodies. Of the three high schools in Rogers Park, Asian American students make up 6.2 percent at Sullivan High School,
2.0 percent at Chicago Waldorf School and 12.2 percent at the Chicago Math and Science Academy. There is a clear decrease of Asian American students in Rogers Park.
Unfortunately, this also means that students who could motivate administrators to
improve education equality at Rogers Park high schools are taken out of the equation. In 2014, Asian American high school seniors in Illinois averaged a composite score of 24.3 on the ACT, 3.6 points higher than the state average of 20.7. Officials use standardized tests, such as the ACT, to determine the quality of a school and consequently, what resources it receives.
Edwin Le, a sophomore at the University of Illinois in Chicago, is another student who
lived in Rogers Park for most of his life but never went to school in the neighborhood.
"My parents never gave me the option of attending a high school in Rogers Park," he
said. "It was either Northside College Prep or Lane Technical."
Even elementary school in Rogers Park was not an option for Le. His parents enrolled
him in a private Catholic school in Evanston long before he was accepted to Northside
College Prep High School for the smaller class sizes and better teachers.
"Our relatives and family friends told my parents to not send me to Rogers Park
Elementary School," Le said. "They viewed those public schools as a system with a
looser leash, so students would be more likely to slip through the cracks if they were
lazy."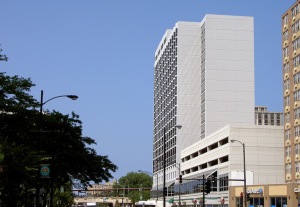 Such concerns were not unfounded. The Chicago school district's graduation rate
decreased from 87 percent to 61 percent in 2014 over the last five years. On the other
hand, Northside College Prep's graduation rate was 97.3 percent last year and Whitney
Young's was 94 percent.
"The schools in Rogers Park are not safe," Tung Le, Le's father, said. "The teachers did
not pay enough attention to their students."
For Le, who decided to attend UIC's pharmacy school before he entered high school, and
his parents, the decision to attend a selective enrollment high school was not a difficult
one.
Chan's parents had similar opinions about Rogers Park high schools.
"My parents thought they were crummy and run down," she said. "They did not like how
the majority of students were Hispanic and black, as they wanted a school with a bit more
diversity than that."
Chan said her parents had doubts about the amount of resources the neighborhood high
schools faced.
"My parents also said that the schools were, at the time, not efficient. They lacked
resources and a teacher-student support system. They lacked community involvement,"
she said. "They were not as updated in technology, so they lacked updated classrooms."
Even teachers in Rogers Park high schools are noticing the absence of Asian American
students in their classrooms.
A  teacher at UNO Charter School, said there is only a
handful of Asian American students enrolled there.
"I know an Asian American girl who wanted to transfer out of our school,"
the teacher said who asked that his name not be used. "Rumor has it that she was looking for
more rigor, academically, culturally and behaviorally."
Even though the schools in Rogers Park do not meet the expectations of these motivated
students, many of them didn't see that as a reason to move.
"My parents said that they stayed because both of them are Chicagoans and they would
never leave the city," Chan said. "We have enjoyed living here. We love the access to the
lake and the transportation."
Le spoke positively about living in Rogers Park as well.
"I didn't move because my grandparents have had this house for a while so it's
sentimental," he said.
However, the future for Rogers Park schools still seems bleak for now as these Asian
American students continue to look elsewhere for education that will prepare them
adequately for college.
(Photo of Rogers Park entrance sign by Gerald Farinas at en.wikipedia [CC BY 2.5 (http://creativecommons.org/licenses/by/2.5), GFDL (http://www.gnu.org/copyleft/fdl.html) or CC-BY-SA-3.0 (http://creativecommons.org/licenses/by-sa/3.0/)], via Wikimedia Commons)