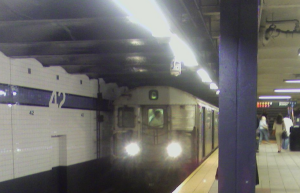 A woman who told police she hates Muslims and Hindus has been sentenced to 24 years in prison for pushing an immigrant from India into an oncoming subway train and killing him, reports the Huffington Post.
It happened on December 27 in 2012 when Erika Menendez killed Sunando Sen, 46, by pushing him into an approaching train.
"For whatever reason, when you gave your statement to police after you were arrested, you said, 'I hate Muslims and the Hindus.' Do you remember that?" the judge asked.
She did not remember.
Queens Supreme Court Justice Gregory Lasak accused Menendez of terrorizing subway riders everywhere.
Sen has lived in Queens for years and owned his own printing shop.
You can read more of the judge's comments in the Huffington Post.