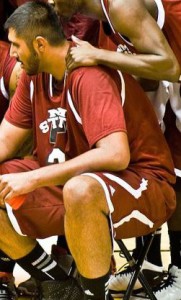 The first player of Indian origin ever to play in the NBA is determined to extend his 15 minutes of fame beyond his brief playing time in the NBA last season.
After months of playing for the Reno Bighorns in the NBA D-League, Sim Bhullar made NBA history when he entered the game for the Sacramento Kings late last season and became an inspiration for many Indians around the world. He has helped make basketball more popular in India.
In a recent interview with the Bangalore Mirror, NBA player, Sim Bhullar discussed how he is trying to stay in shape during the off season. Bhullar describes how he is preparing for the next season by training several times a day and maintaining a balance between a healthy diet and his mother's Indian cooking.
Bhullar provided advice in the interview by stating "if you have a dream or a goal, stick to it", and added "just give it your all, work hard and leave everything on the court." If Bhullar is able to follow his advice, he may be able to stay in the NBA and have a successful next season.
You can read more about Bhullar's dietary regiment in the Bangalore Mirror.
RELATED STORY