Have you had a chance yet to check out the I Am campaign featuring interviews with prominent Asian Americans in entertainment and business yet?
It's a co-project between the Coalition of Asian Pacifics in Entertainment (CAPE) and Verizon.
Among those featured are Daniel Dae Kim (Hawaii Five-O) , Ki Hong Lee (Unbreakable Kimmy Schmidt), Constance Wu (Fresh Off the Boat), Arden Cho (Teen Wolf), Jason Chen (musician) and the founders of the Seoul Sausage Company, Ted Kim, Yong Kim and Chris Oh.
Daniel Dae Kim's first breakthrough role on network television was as Jin in the hit series Lost for six years. The Korea-born Kim moved with his family to the United States at age 2.  He played a character that didn't speak any English, but  feels he never got any credit for the realism of his portrayal.
"When we take White actors, and we ask them to speak in another language, the entire conversation is about you are incredible. You take a language that you don't know well, you not only learn it, but you are able to act scenes in that language. This is the pinnacle of your craft. But not just with me, but with any Asian, it is almost assumed that you should be able to do that, or the work that you have to put in to do that, is not significant. It's a very subtle kind of racism that still exists today.
You can watch the entire interview below:

Ki Hong Lee has had an opportunity to play two roles not normally given to Asian American men. He's played Minho in the sci-fi action adventure movie The Maze Runner and Dong Nguyen who actually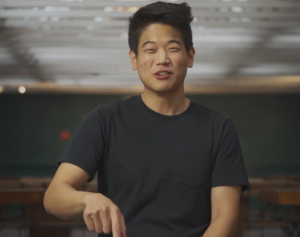 gets a love interest in the Unbreakable Kimmy Schmidt which airs on Netflix.
Lee realizes how fortunate he's been in his career.
"I try my best to bring the alpha-male dominant strong kind of characteristic to that role and I'm just very lucky because the author of the book James Dashner has a niece who's husband is Korean and his name is Minho," he said about his role in The Maze Runner. So that's why he put that character in the book. So thank you to that guy and that's why we need Asians everywhere because you never know where an author is going to get inspiration from a regular dude that marries his niece, you know. That's literally how this role came about. And so I thank that guy everyday. I'm just really blessed to be part of that and to kind of showcase that Asian Actors can be masculine and can run really fast."
You can watch Lee's entire interview below
You can see all the interviews on the I Am Campaign Page.