The new crop of television shows next fall will feature 13 shows with actors of color in lead roles, reports NPR.
That's about 30 percent of the 42 new shows next season.
As reporter Eric Deggans puts it, it's proof that diversity in casting is more than just a "passing fad."
Deggans also points out that that next season's new shows are less culturally specific. Unlike Blackish and Fresh Off the Boat, two shows that broke ground for being centered around the family's ethnic heritage, the new shows fall back into familiar themes. Some might even call the shows cliched. Deggans calls them "generic at first glance."
At first glance, I give the shows more credit than that.
There will be the buddy cop show Rush Hour which is based on the popular movie franchise and stars John Foo and Justin Hire.

Foo gets a shot in playing a lead role in an action series. There aren't too many opportunities on television for that. So give CBS credit.
There will be the comedy Dr. Ken, starring Ken Jeong, a doctor with poor bedside manners. The family comedy is unique in that in will feature an Asian American family, one of only two on television next season. The other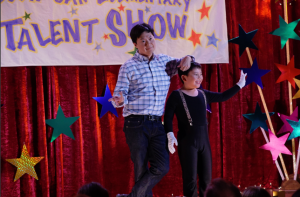 is the Huangs on Fresh Off the Boat.
However, the show will also give some people pause for its ethnic humor.
Dr Ken's boss, played by Newsradio's Dave Foley, demands Ken apologize to an overweight patient for calling him fat.
"And if I don't?" Jeong replies.
"Then I'll finally have grounds to fire your tiny Asian ass."
Also in the trailer below, Jeong turns his father's accent into comedy.
It's unclear how much of this type of ethnic humor will be in Dr. Ken. The comedy on much of the trailer seemed very familiar to sitcoms. Jeong plays an overprotective father and his relationship with his boss is contentious.
I'm particularly interested in seeing Quantico. It features Bollywood star Priyanka Chopra who specifically told ABC when it signed her to a development contract that she wanted her character to be ethnically ambiguous. It's debatable whether ABC granted her her wish because she plays an FBI agent who becomes a suspect in a terrorist plot. It'll be interesting to see where they take Quantico because it has the potential to make some strong statements about ethnic profiling.
So why is Deggans concerned about next season's crop of new shows? You can read about that in NPR.