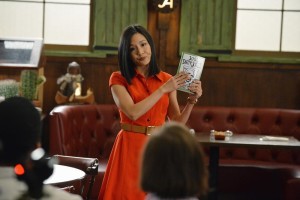 From the pilot episode to the season finale of Fresh Off the Boat, Constance Wu has generated buzz from fans as a possible Emmy contender.
That buzz is starting to look more and more like it could become reality.
The Los Angeles Times recently interviewed Wu as part of its series of interviews with Emmy contenders.
Wu says if she wasn't acting, she'd open a rabbit sanctuary.
Hopefully she'll be able to pull a rabbit out of her hat and not only garner an Emmy nomination, but take home the prestigious statuette as well.
In the interview with the Times, she talks about the angst many Asian Americans felt that Fresh Of the Boat might perpetuate stereotypes. She credits the depth of the characters and writing for easing those fears. She also discusses the risks of doing comedy and the reaction of Eddie Huang's real life mother to Wu's portrayal of her.