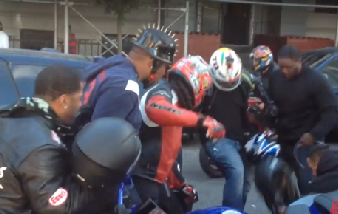 The case against undercover officer Wojiciech Braszczok and co-defendant Robert Sims is expected to be decided by a judge by early next week, reports WABC.
Closing arguments wrapped up Friday in a New York courtroom. Braszczok and Sims face charges in the brutal beating of Alexian Lien in September 2013 when Lien was chased by motorcyclists on a New York highway and dragged out of his SUV and beaten.
Attorney John Arlia who is representing Braszczok downplayed the extent of Lien's injuries describing the permanent scars above his eyes as a "rite of passage" in Brooklyn. Arlia, while acknowledging his client made a mistake bashing the rear window of Lien's SUV, argued the cracks were already there prior to his client's actions.
Sim's attorney Omar Almenazar says his client was only trying to make a citizen's arrest. The melee started when Lien bumped up against one of the cyclist after the cyclist intentionally slowed down in front of Lien.
Joshua Steinglass called Braszczok arrogant and played up the fact that Braszczok has admitted lying several times about the case.