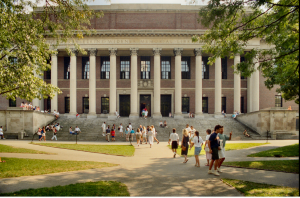 The story of a Korean American student receiving dual enrollment into both Stanford and Harvard was a hoax concocted by the girl to impress her parents, reports the  Washington Post.
The story which detailed how the girl would be able to spend her first and second years at Stanford and then transfer to Harvard made international headlines, which the girl's parents ultimately retracted.
What kind of pressures prompted the student from the academically demanding Thomas Jefferson High School for Science and Technology in Fairfax County, VA.  to make up such a story?
Next year's freshman class at TJ will be 70 percent Asian.
"We celebrate the accomplishment of students who get into all eight Ivies," said Brandon Kosatka, TJ's director of student services. "That's the bar, and our kids are shooting for that. They don't like to be the second best. If that's the bar, then yes, that creates anxiety for them."
"In general, I feel that it's not just TJ but all of our students are feeling more and more pressure to do well,"  said school board member  Ilryong Moon. "The competition is becoming stiffer."
In the end, the girl's parents had to apologize.
"I am sincerely sorry for causing trouble with what is not true," the father wrote.. "I am deeply repentant that I failed to watch properly over how painful and difficult a situation the child has been in so far and that I even aggravated and enlarged her suffering. … From now on, the whole family will live a quiet life, devoting ourselves to getting the child cured well and taking good care of her. Please forgive me for being unable to offer detailed explanations as the situation has not been completely figured out yet."
You can read how the story unraveled and what Stanford and Harvard are saying about all this in the Washington Post.
RELATED STORY:
Story of Student Being Admitted Simultaneously into Stanford & Harvard May Be a Hoax
Mira Hu-The Asian Academic Runaway & What Asian Parents Need to Know