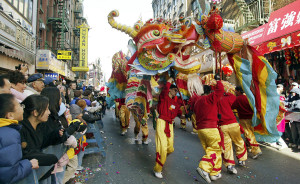 Asian American students will no longer be penalized with an absence when taking a school day off for Lunar New Year beginning 2016, reports NY Daily News.  The holiday will be officially designated tomorrow.
Mayor Bill de Blasio tweeted the informal announcement Monday evening.
"Working towards a more inclusive city: Tomorrow, @nycgov will designate Lunar New Year an official @nycschools holiday."
The mayor was under extreme pressure to add Lunar New Year to the school calendar after he added two Muslim holidays, Eid al-Fitr and Eid al-Adha, in March.
Assemblyman Ron Kim, the first Korean American elected to the state Legislature, said "It's about Asian culture being acknowledged as part of the American fabric for the next generation of kids to understand that Asian Americans are as American as any other community."
According to State Sen. Daniel Squadron, Asian Americans make up 15 percent of the population in the public school system and many have taken the holiday off as a sick day.
The next Lunar New Year will be February 8 and the Year of the Monkey.
You can read why if the Mayor didn't make this decision voluntarily, he may have been forced to make it in the near future in the NY Daily News.