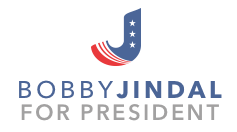 Republican Gov. Bobby Jindal of Louisiana officially declared Wednesday his intention to run for the 2016 presidency on his website and later at a kickoff rally, reports Time.

The 44-year-old two term governor intends to highlight the successes of his career to distinguish himself from other candidates. Jindal described himself as "the youngest candidate with the longest resume."

The son of Indian immigrant parents, Jindal became state health secretary at the age of 24 after graduating from Oxford. Then he won election to Congress at 32 and became governor four years later.

Jindal's campaign will primarily focus on his policy work, rather than cultural issues. He has already noted that unlike the other GOP candidates, he has written policies on health care, defense, education and energy policies.

While the announcement was made today, Jindal prepared months in advance for his campaign by traveling to key presidential voting states, such as Iowa.

Born a Hindu but converted to Catholicism, Jindal also hopes to appeal to the Christian conservatives. Here he faces competition from fellow Republican candidates, including Texas Sen. Ted Cruz and former Arkansas Gov. Mike Huckabee.

You can read about how Jindal outlines his conservative ideals in Time.